"I can't think of a better place to erect a museum on the subject of exile than this one alongside the ruins of Anhalter Bahnhof's portico."
(Herta Müller)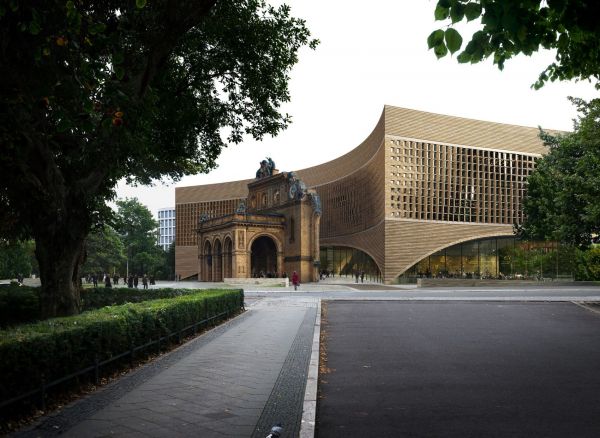 The Design
In the design by Danish architect Dorte Mandrup the façade forms a wide arc around the portico ruins of Anhalter Bahnhof. This subtle but powerful gesture frames the new building keeping a respectful distance from the ruins. The wide-spanning foyer on the ground floor gives an overall impression that the entire structure rests on just four points.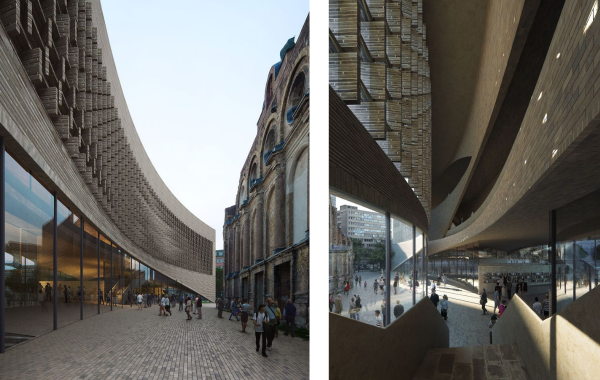 An extensive plaza opens up between the historical fragment and the new building which bridges from the past to the present. Thanks to the glass foyer, visual connections remain through the building. Inside the museum, a triple-story airspace opens up behind the brick façade. The upper-floor galleries offer a series of ever-changing views of the portico.
Location
The ruins of Anhalter Bahnhof's portico are all that remain from what was once Berlin's largest train station. From here, countless victims of Nazi persecution fled between 1933 and 1945 in search of safe refuge in exile. For many emigrants, the street in front of Anhalter Bahnhof was the last place that they felt the Berlin cobblestones beneath their feet and started out facing an uncertain future.
Supported by Stiftung Exilmuseum, Deutsches Technikmuseum and TU Darmstadt developed a visual reconstruction of the Berlin architectural icon. With "Anhalter Bahnhof Revisited" you can discover the architecture and the discover the historic rail station and stories linked to it:
anhalter.technikmuseum.berlin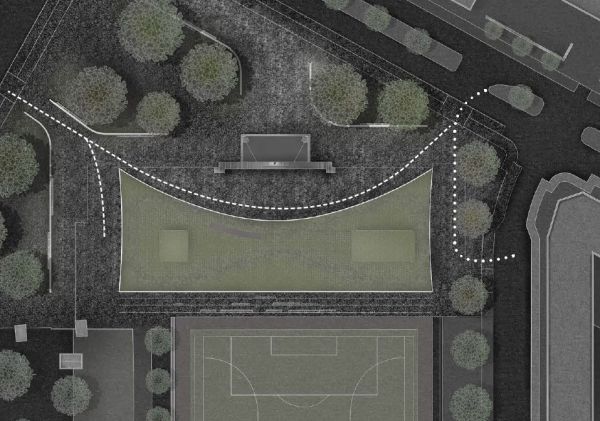 Planning Status
The planning area is located behind the portico ruins of the Anhalter Bahnhof next to the Lilli Henoch sports field. The building will feature about 3,500 square meters of floor space for museum purposes. In addition, a seperate 700 square meters are planned for cultural and leisure activities by the district and third parties.
The leasehold agreement with the district of Friedrichshain-Kreuzberg was notarized in December 2022. The building permit is expected by 2024. The opening of the museum is currently planned for 2028.
The Competition
For the realization of the museum building, Stiftung Exilmuseum held an architectural competition in cooperation with Berlin's Senate Department for Urban Development and Housing and the district of Friedrichshain-Kreuzberg. Ten renowned firms from all around the world were invited to participate.
The Architect
Architect Dorte Mandrup has led a multi-award-winning practice in Copenhagen since 1999. It is internationally known for creating sculpturally influenced architecture with a unique sense of place and materiality – for example, in the "Wadden Sea Trilogy" implemented in Denmark, Germany and the Netherlands, or the Norwegian exhibition center "The Whale".